Only two months ago my husband and I moved to our first apartment. I decided to collect all the first kitchen essentials that I found helpful setting up my kitchen and I hope you'll find them helpful too!
*This post contains advertisements or affiliate links, which means I will make a small commission if you buy any products that have been linked to on this post. It will not affect the prices of the items.*
First Kitchen Essentials
T-fal B209SI Initiatives Nonstick Inside and Out Dishwasher Safe Oven Safe Cookware Set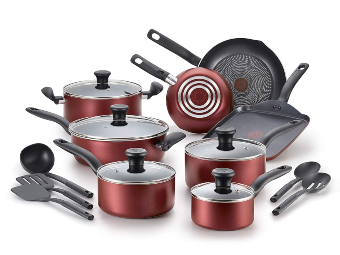 A good cookware set is an absolute must when it comes to setting up your first kitchen. You'll need a pot and a pan even if you only want boiled/fried egg, macaroni and cheese, or chicken nuggets.
Bakeware Set
Rachael Ray 52410 Cucina Nonstick Bakeware Set with Baking Pans, Baking Sheets, Cookie Sheets, Cake Pan, Muffin Pan and Bread Pan – 10 Piece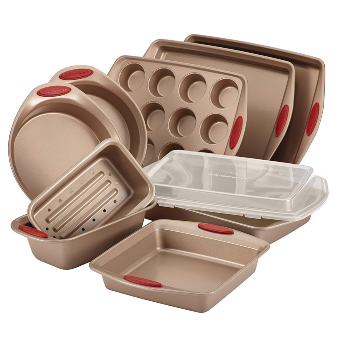 If you love making your own baked goods, or just prefer a good old sheet pan dinner, you'll need a good bakeware set!
Springform Set
Wilton Springform Cake Pan Set, 3-Piece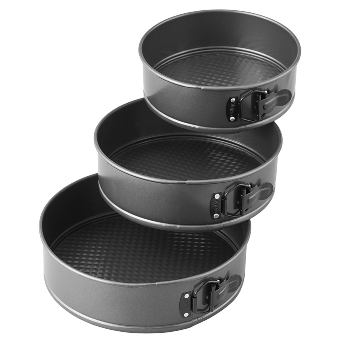 When it comes to baking, I swear on springforms, because most of the time it's so much easier to get a cake out of a springform pan, than a normal one.
Knife Set
Knife Set, 15-Piece Kitchen Knife Set with Block Wooden, Manual Sharpening for Chef Knife Set, German Stainless Steel, Emojoy
I can't even stress enough how important is to have the right knife set in the kitchen. Even if it comes to butter your bread, cut your vegetables or nicely slice your meat or fish, the right knife is essential!
Cutting Board Set
Bambusi Natural Bamboo Cutting Board Set – 4 Piece Kitchen Chopping Boards with Juice Groove for Meat, Cheese and Vegetables – Wooden Carving Serving Tray
I find it very helpful when I have multiple and different sized cutting boars on hands when it comes to cooking. I don't like to (and not hygienic at all) to cut my meat and vegetable on the same board, so I constantly have 2-3 cutting boards on hand when I prepare a meal.
Serving Tray
Serving tray bamboo – wooden tray with handles – Great for dinner trays, tea tray, bar tray, breakfast Tray, or any food tray – good for parties or bed tray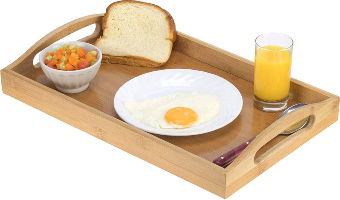 Even if you just love breakfast in bed, or you want to serve some fingerfood or appetizer on a party, a serving tray is a must!
Utensil Set
Home Hero Stainless Steel Kitchen Utensil Set – 29 Cooking Utensils – Nonstick Kitchen Utensils Cookware Set with Spatula – Best Kitchen Gadgets Kitchen Tool Set Gift
This amazing utensil set comes with a whole lot of utensil you'll need in your first kitchen!
Skimmer
Egg whisk
Slotted turner
Non-slotted turner
Extra-wide Asian turner
Garlic press
Tea Strainer
Cheese knife
Pizza cutter
Bottle opener
Can opener
Potato peeler
Potato masher
New and Improved barbecue tongs/kitchen tongs
Spatula
Soup ladle
Grater
Strainer
4 New and Improved stainless steel measuring spoons
4 New and Improved stainless steel measuring cups
Slotted spoon for draining
Serving spoon
Pasta server
Wooden Spoon Set
OXO 1130780 Good Grips Wooden Spoon Set, 3-Piece, Brown
When it comes to cooking, I swear on the traditional wooden spoon. I prefer having different size wooden spoons for the different size pots, so I always have 2-3 in hand.
Funnel Set
Nopro Plastic Funnel, Set of 3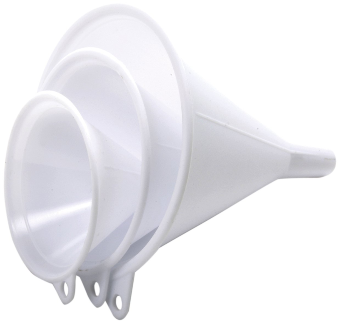 A simple, yet helpful tool for transferring liquids/dry ingredients from containers to bottles while keeping the kitchen counter free from spills, I mostly use these funnels to pour sugar to the container.
Apple Corer
SAVORLIVING Apple Slicer Upgraded Version 12-Blade Extra Large Apple Corer, Stainless Steel Ultra-Sharp Apple Cutter, Pitter, Divider for Up to 4 Inches Apples
If you love apple slices with homemade peanut butter as much as I do, you'll find it really helpful too!
Pineapple Corer
Pineapple Corer, [Upgraded, Reinforced, Thicker Blade] Newness Premium Pineapple Corer Remover, Stainless Steel Pineapple Core Remover Tool for Home & Kitchen with Sharp Blade for Diced Fruit Rings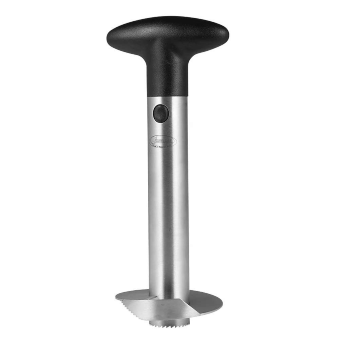 It's one of the most helpful tools I have. No more cutting too much or too little skin, no more left in eyes or slipping knives or sticking surfaces. It's simple, quick and soo easy to use! Also, you can forget the canned ones after this!
Galuska (Dumpling) Maker
HIC Spaetzle Noodle Dumpling Maker with Safety Pusher, 13-Inches
A galuska maker or dumpling maker is a must in a Hungarian household. If you want to make your own Galuska aka Hungarian Dumplings, it's a really useful little thing!
Garlic Press
OXO 11107400 Good Grips Soft-Handled Garlic Press,Black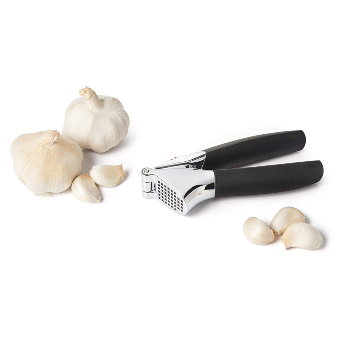 It's a simple, yet effective tool to avoid smelly hands and surfaces, but have the amazing aroma of garlic in your meal.
Kitchen Thermometer
ThermoPro TP03 Digital Instant Read Meat Thermometer Kitchen Cooking Food Candy Thermometer with Backlight and Magnet for Oil Deep Fry BBQ Grill Smoker Thermometer
It's a simple and quick tool to check your meat or cake's temperature, so you can avoid serving raw meals.
Boxed Grater
Cuisinart CTG-00-BG Boxed Grater, Black, One Size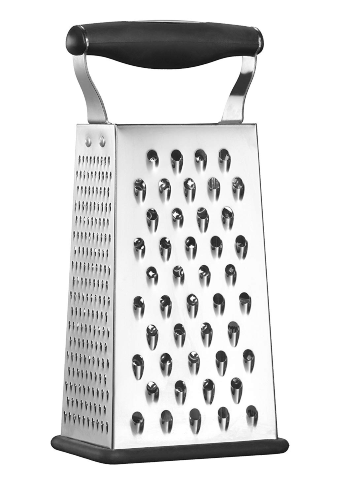 "The Cuisinart Box Grater is made for stainless steel and is perfect for fine shredding, coarse shredding, fine grating and slicing blades. Box grater features a soft-grip handle and a nonslip base so you can grate with ease. Dishwasher safe. "-Amazon
Cheese Grater
Cheese Grater, Kmeivol Stainless Steel Square Comfortable Grips Coarse Grater with Hanging Loop, Pro Grade Flat Hand Held Cheese Grater for Kitchen, Razor Sharp Blades Medium Shred Cheese Grater
I find this grater easier to use than the box one. So I use this for citrus and cheese, while I use the box grater for carrots or other vegetables.
Oven Mitts
IXO 6Pcs Oven Mitts and Pot Holders, 500℉ Heat Resistant Oven Mitts with Kitchen Towels Soft Cotton Lining and Non-Slip Surface Safe for Baking, Cooking, BBQ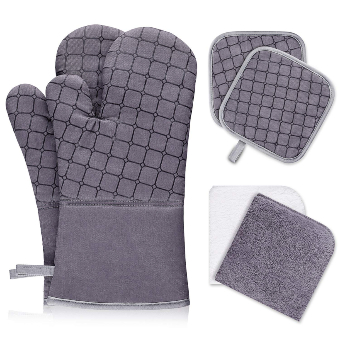 This one saved me from some serious burning, and they give you mitts for both hands! Also, it's a great gift for Mother's Day, Father's Day, Independence Day, or Christmas!
Kitchen Towels
Microfiber Kitchen Towels – Super Absorbent, Soft and Solid Color Dish Towels, 8 Pack (Stripe Designed Brown and White Colors), 26 x 18 Inch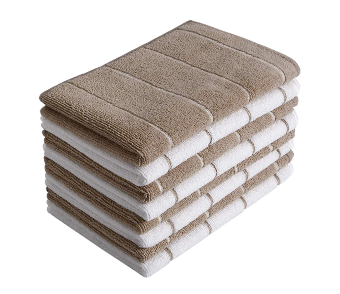 "These kitchen dish towels are capable of:
– High absorption that helps quickly clean the dishes or wipe the spills
– Soft and plush, this microfiber kitchen towel will not scratch any delicate surfaces
– Withstands repeated washing and continues to perform perfectly
– Dry quickly, no more nasty mildew or funky smell – Machine wash and dry for easy care.
– Come in a set of 8 pieces with stripe camel and white design, bringing elegance and fashion to your kitchen. " -Amazon
Silicone Baking Cups
AmazonBasics Reusable Silicone Baking Cups, Pack of 12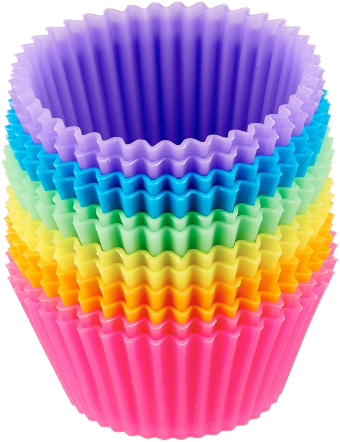 It's a cost-saving alternative to disposable paper cups, no greasing or cooking spray needed. Also, the fun colors look great when you serve your cupcakes.
Use these colorful baking cups to make Cranberry Pumpkin Seed Muffins: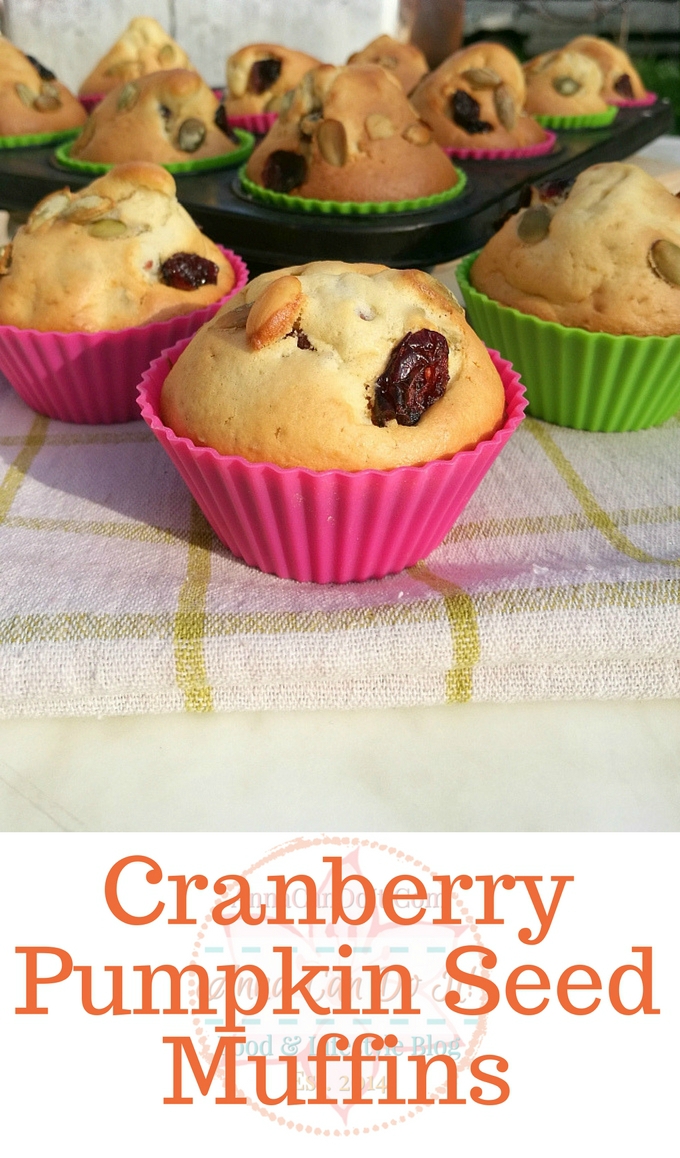 Wood Rolling Pin
Farberware Classic Wood Rolling Pin, Natural Wood, 1 – 5215807
"DURABLE: The Farberware Wood Rolling Pin is made from durable, moisture resistant hardwood
COMFORT GRIP: The rolling pin features comfortable, easy grip handles for added comfort and control
SMOOTH ROLLING: The wood rolling pin boasts rust proof nylon bearings for smooth rolling action
ESSENTIAL TOOL: This wooden rolling pin is an essential kitchen tool. It is great for rolling out pizza dough, pie crusts, tarts, and cookies
EASY TO CLEAN: This wood rolling pin should be hand washed with a damp cloth for best results" -Amazon
Rolling Mat
EasyOh Silicone Pastry Mat 100% Non-Slip with Measurement Counter Mat, Dough Rolling Mat, Pie Crust Mat 16 x 24 Inches
"Non-stick pastry mat with measurements, the circular guides make rolling out pie dough or pizza crust a breeze. Even the least experienced novice bakers will be confident to make, roll out and cut the perfect pie crust. Measurements are in imperial and metric to guarantee perfect results – every time. " -Amazon
Try your new rolling pin and rolling mat on this delicous Hungarian Knot Noodle – Göcs recipe: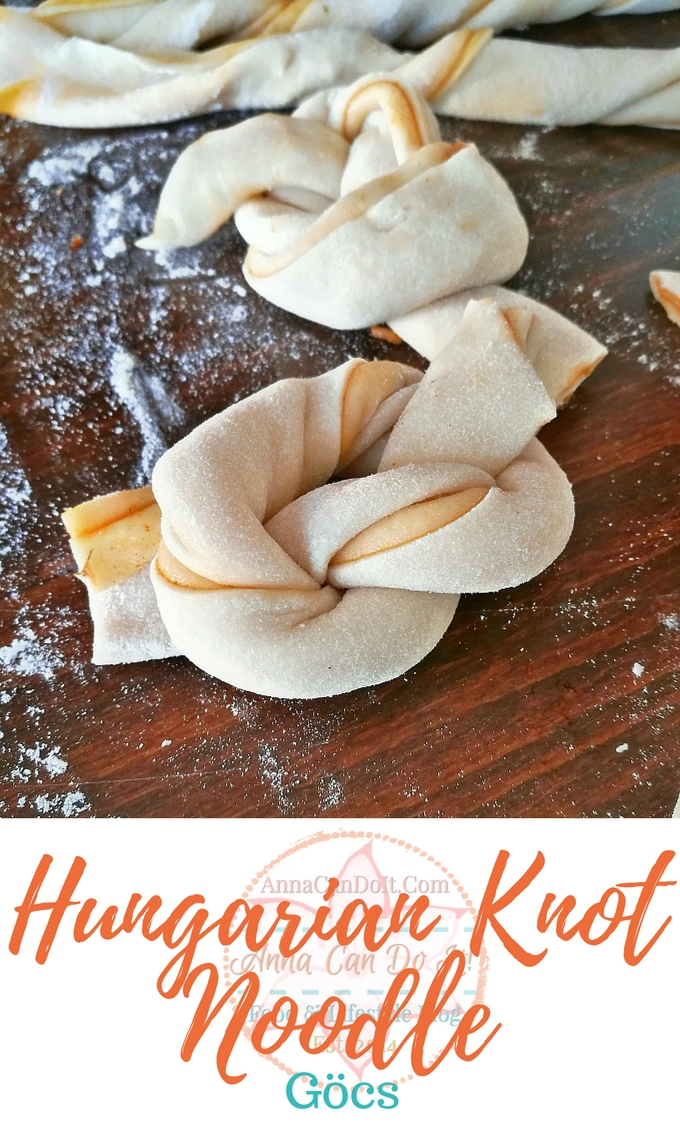 Colander set
ExcelSteel 731 Colander set, Stainless steel
" Perforated design allows for fast and thorough draining or rinsing. Used to prepare fruits, vegetables, pasta and even meat. Constructed of high quality stainless steel, the large handles allow for a firm, comfortable grip. Featuring a mirror polished innterior and exterior. Each colander nests for convenient storage. A sturdy base provides for secure placement on the countertop or in the sink."-Amazon
Mesh Strainer
LiveFresh Mesh Strainer Stainless Set – Premium Fine Stainless Steel Fine Mesh Strainers, Colanders and Sifters Crafted for Quinoa & Amaranth with Comfortable Non Slip Handles – 3 Sizes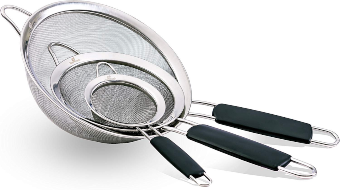 I prefer to use this mesh strainer mainly for grains like rice or smaller vegetables like peas.
Pot Lid Organizer
Ikea VARIERA 701.548.00 Pot Lid Organizer, Stainless Steel
This one was a lifesaver in my tiny kitchen, it saved me so much space for the pot lids, I just love it!
Utensil Holder
Ikea 301.317.16 30131716 Ordning Utensil Holder, Stainless Steel, 7″
I use this one to dry my larger utensils after washing them, it works great!
Oggi 7211 Jumbo Stainless Steel Utensil Holder
If you have a lot of utensils like I do, you'll need this jumbo size utensil holder!
Besti Rustic Kitchen Utensil Holder With 3 Compartments | Torched Wood Utensil Organizer | For Cutlery, Napkins, Cups & More | Large Vintage Countertop Caddy Box | Size: 6.5 x 14.8 x 5" Inch
"This Vintage Wooden utensil holder with white wash Barnwood finish, is the perfect decorative touch to your kitchen countertop. The timeless torched wood design of the Besti utensil crock matches nicely with the style of most kitchens, offering a cozy, rustic flair that anyone would definitely love!" -Amazon
Kitchen Drawer Organizer
madesmart Classic Large Silverware Tray – White |CLASSIC COLLECTION | 6-Compartments| Kitchen Drawer Organizer | Soft-Grip Lining and Non-Slip Rubber Feet | BPA-Free
" The madesmart Classic Large Silverware Tray is a 6-compartment tray that fits in any kitchen to help with silverware and utensil organization. The rounded corners and interior soft-grip lining makes this silverware tray highly functional, easy-to-clean, and aesthetically pleasing. " -Amazon
Kitchen Organizer Set
Ikea Steel Kitchen Organizer Set, 22.5-inch Rail, 5 Hooks, Black
Simple, clean and aesthetic way to organize your kitchen.
Shelf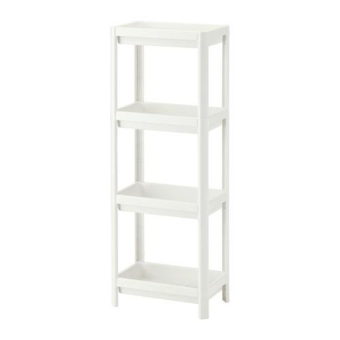 Use this to store your vegetables, fruits and other kind of ingredients!
Paper Towel Holder
Spectrum Diversified Euro Paper Towel Holder, 1 Count, Chrome
"The compact holder will take up little space on your countertop or dining table, leaving more space for food, décor, or storage items. The sleek sturdy steel looks modern while boasting old-fashioned durability. The circular base does not lean or tip, making it easy to tear off a paper towel when you need it." -Amazon
Measuring Cups
Pyrex Measuring Cups, 3-Piece, Clear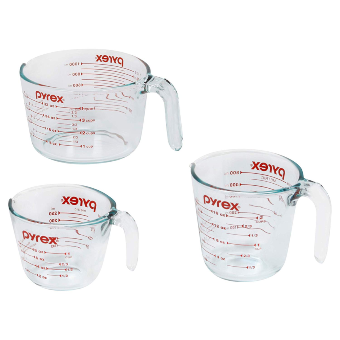 Measuring cups are essentials in the kitchen, whether you're a foodie or a homemaker.
"Set Includes: (1) each 1- Cup Measuring Cup
(1) 1 – Cup Measuring Cup
(1) 2 – Cup Measuring Cup
(1) 4 – Cup Measuring Cup
Glass is preheated oven, microwave, fridge, freezer & dishwasher safe." -Amazon
Measuring Spoons
New Star Foodservice 42917 Stainless Steel Measuring Spoons and Measuring Cups Combo, Set of 8
"Stainless steel measuring cups and spoons set
Measuring cups: 1 cup, 1/2 cup, 1/3 cup, and 1/4 cup
Measuring spoons: 1 tbsp., 1 tsp, 1/2 tsp, 1/4 tsp
Engineered for precision accuracy to assure consistency in food preparation
Set nests for storage and attach to a removable loop" -Amazon
Mixing Bowls
Premium Stainless Steel Mixing Bowls (Set of 6) Stainless Steel Mixing Bowl Set – Easy To Clean, Nesting Bowls for Space Saving Storage, Great for Cooking, Baking, Prepping
" SIZED for EVERY TASK – with range of 6-Sizes ¾, 1.5, 3, 4, 5 and 8 quart metal mixing bowls adds versatility and functionality to your kitchen, for all-purpose kitchen workhorses from prepping, mixing, stirring, to kneading dough like a pro." -Amazon
Food Storage Containers
Airtight Food Storage Containers – Wildone Cereal & Dry Food Storage Container Set of 6 (Black Lid), Leak-proof & BPA Free, with 20 Chalkboard Labels & 1 Measuring Cup & 1 Chalk Marker
These food storage conatiners are prefect to store cereal, rice or legumes. Organizing the pantry becomes easier with the labels!
Large Cereal & Dry Food Storage Containers, Wildone Airtight Cereal Storage Containers for Sugar, Flour, Snack, Baking Supplies, Leak-proof with Black Locking Lids – Set of 6 (4L /135.3oz)
These food storage conatiners are prefect to store sugar, flour or pasta. Organizing the pantry becomes easier with the labels!
Rubbermaid Easy Find Vented Lids Food Storage Containers, Set of 30 (60 Pieces Total), Racer Red
"Easily store food while minimizing clutter around your kitchen using Rubbermaid Food Storage Containers with Easy Find Lids. Featuring a new built in vent for splatter resistant microwaving, these meal prep containers are easy to organize and help conserve space in your cabinets.
The lids snap to each other and to the bottom of the containers and have a bright red color, helping ensure that they are always easy to find. Constructed from durable, BPA free plastic, these food containers are built to withstand a wide range of temperatures and are dishwasher, microwave, and freezer safe.
Thanks to their clear bases, it's easy to see the contents of any container. " -Amazon
Sealing Clips
Ikea 103.391.71 Bevara Sealing clip, assorted colors, assorted sizes, 30-pack (Color)
It never occured to me that I'd need something like this until my brother made me buy this. It's one of the most used tools in my kitchen and I absolutely love it!
Reusable Mesh Bags
Ecowaare Set of 15 Reusable Mesh Produce Bags – Eco-Friendly – Washable and See-Through – with Colorful Tare Weight Tags – 3 Sizes
"Zero Waste and Eco-friendly — One more step closer to a zero waste lifestyle and cuts plastic bag use in a convenient way; Get 15 pcs reusable and durable bags, great addition to your goal of being plastic free and helping the environment,and each mesh bags has the potential to eliminate up to 1000 plastic bags over it's lifetime.
Safety and Lightweight — BPA free and 100% food contact safe, with the highest standards of quality, safely hold all your fresh produce. Made of ultra fine yet strong mesh polyester, the mesh bag is super lightweight that it won't add weight to your produce.
Scan Through Easily — Unlike most non-transparent mesh bags from other brands, our produce bags is nearly transparent so you can easily see through the bag to know what's inside;bar-codes will scan right in the bag so that the cashier will be able to see the item numbers and also make your checkout faster.
Convenient and Easy to Clean — Easy to open and close with drawstring toggle closure; Colorful drawstrings and tags help to keep you more organized;Easy to clean, just rinse it with water or wash them with the rest of your laundry, then they are good to go again, no problem!
Multiple Sizes Meet All You Need — 3 sizes makes them very versatile,yellow is small 12″×8″, green is medium 12″×14″, and red is large 12″×17″, just take one from the bundle easily by its color and you have the correct bag to use; Great not only for veggies and fruit, but also great for toys, bulk grain or fragile produce." -Amazon
Salt and Pepper Grinder Set
Willow & Everett Stainless Steel Salt and Pepper Grinder Set -Tall Shaker, Adjustable Coarseness, Refillable -Sea Salt, Black Peppercorn Mill
Freshly grinded pepper can spice your meal up. With this salt and pepper grinder you can do this stylishly and thanks to its tall design, you don't have to refill often!
Spice Jars
Aozita 36 Pcs Glass Spice Jars with 612 Spice Labels – 4oz Empty Square Spice Bottles – Shaker Lids and Airtight Metal Caps – Chalk Marker and Silicone Collapsible Funnel Included
"COMPLETE SQUARE SPICE BOTTLES SET» 36 Square Empty Glass Spice Jars, 36 Shaker Lids, 36 Metal Caps and 2 kinds of Waterproof Spice Jar Labels ( Pre-printed Clear PVC labels, Chalkboard Labels, and Blank Labels), a collapsible silicone funnel to help transfer spices, simplifying the refilling task!
HIGH-QUALITY JARS » Aozita Spice Jars are made from high-quality Lead-Free durable glass. Clear glass let you have a clear look of spices, each square glass jar measures approximately 4″ x 1 3/4″ with a 1 1/4″ opening. The modern design square shape and tops fit any spice rack, cabinet, organizer, drawers, or kitchen.
PREMIUM ACCESSORY » Exclusive sift and pour shaker lids matching metal airtight caps which means your herbs stay fresher longer! 612 Preprinted Round Spice Labels which includes 32 blank labels that can be written on with a white pen (Chalk Marker Included), this gives you the option of labeling the sides or the lid of the jars." -Amazon
Kitchen Torch
Authenzo Kitchen Butane Torch Lighter (Butane Gas Not Included,Black)
" Professional Quality Culinary Torch: it is suitable for professional and creative family cooks. It is widely used in the processing of delicious caramel desserts, meat barbecue, cigar lighter, small handicraft and so on" -Amazon
Use this torch to make roasted halloween marshmallows to your Halloween Ghost Marshmallow Apple Pear Pie:
Ramekins
Bellemain Porcelain Ramekins, set of 6 (10 oz.)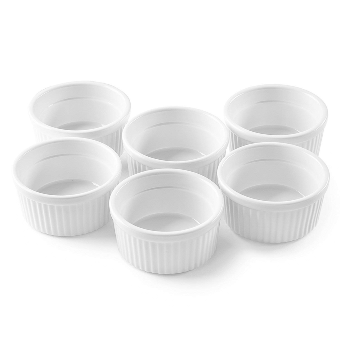 "PERFECTLY SIZED FOR SINGLE SERVE DESSERTS AND SOUFFLES: The The 10 ounce ( cup) ramekins are ideal for serving dips, salsas, dressings, sauces, appetizers, and side dishes like olives and bruschetta.
THICK, GLAZED PORCELAIN CAN HANDLE IT ALL: These ramekins move easily from the oven, to the microwave, and then to the freezer without breaking a sweat. When youre finished eating that delicious lava cake or creme brulee, send it through the dishwasher for easy cleanup.
WONT ABSORB ODORS, FLAVORS OR COLORS: Glazed porcelain is elegant, eco-friendly and versatile, unlike plastic. Never worry about harmful toxins leaching into your food. Safe to use around your family.
LOOKS GREAT ON ANY TABLE: These classic white porcelain ramekins go anywhere and look fantastic in any setting. You can serve food in them, eat out of them, and never worry about chips, nicks, cracks, and scratches." -Amazon
Start making your own Crème Brûlée: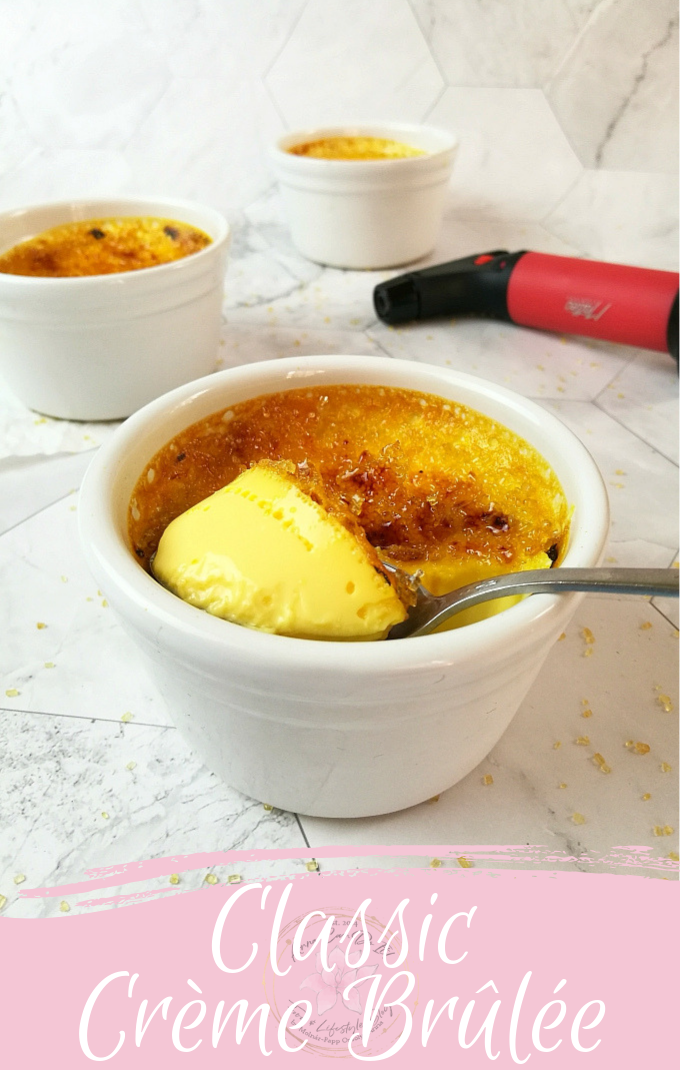 Dinnerware Set
AmazonBasics 16-Piece Kitchen Dinnerware Set, Plates, Bowls, Mugs, Service for 4, White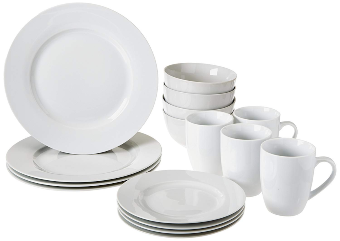 "16-piece round dinnerware set; service for 4
AB-grade porcelain; BPA-free; lightweight yet durable
Elegant white finish to complement existing kitchen décor
Safe in your microwave, oven, and freezer as well as dishwasher-safe
Includes 4 each: 10.5-inch dinner plate, 7.5-inch dessert plate, 5.5 x 2.75-inch bowl, and 4-inch-tall mug" -Amazon
Silverware Set
LIANYU Silverware Set 20-Piece, Stainless Steel Flatware Utensils Set Service for 4, Simple Look & Modern Design, Dishwasher Safe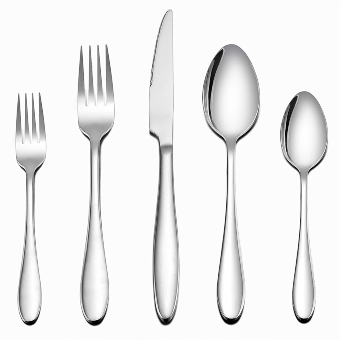 "LIANYU 20-Piece Silverware Set Service for 4, is made of rust free stainless steel, durable and healthy to serve you for many years. Smooth finish edges would not hurt your mouth. Simple and clean look with no annoying decoration to match any style of your kitchenwares. Sharp serrated knife help you cut food easily. This flatware set is perfect for home use, office, restaurant, hotel. Great idea for gift too.
WHAT INCLUDE
4 X Dinner Knife
4 X Dinner Fork
4 X Dinner Spoon
4 X Desert Fork
4 X Tea Spoon" -Amazon
Porcelain Bowls
Sweese 101.002 Porcelain Bowls – 10 Ounce for Ice Cream, Dessert – Set of 6, Hot Assorted Colors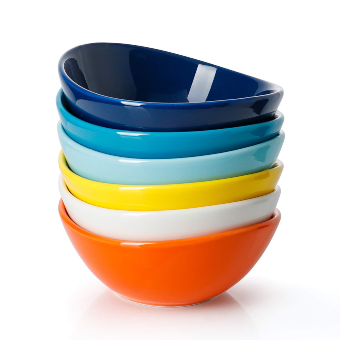 "The Sweese curve collection bowls have a stylish shape with clean and curved lines, which adds a modern touch to your table. You won't get out of the conventional round bowls until you discover this curve collection." -Amazon
Mug Set
Sweese 601.002 Porcelain Mugs – 16 Ounce for Coffee, Tea, Cocoa, Set of 6, Hot Assorted Colors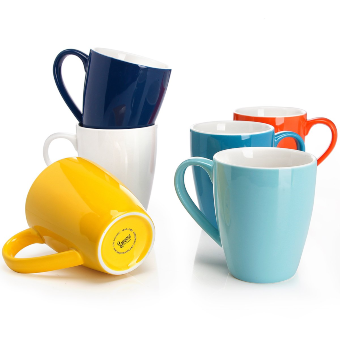 "WELL MADE – So simple but elegant design, the mug set are PROUDLY FDA approved, smart size with 16oz, right weight, sturdy, set of 6. If you are looking for good basic mug set, then your search is over! That's because our product is commercial grade quality.
ENJOY YOUR MUGS – There's plenty of room between the handle and cup itself, with the well-shade handle, so comfortable in the hand that makes the tea&coffee taste even better.
MULTI PURPOSES – Perfect for coffee, tea, cocoa and cereal. Cutely and colorful, add a splash of color to your kitchen, the mug set is really good for warming your house. Moreover, it's perfect to welcome guest, so easy for guests to keep track of which cup is theirs." -Amazon
Glassware Set
Libbey Impressions 16-Piece Tumbler and Rocks Glass Set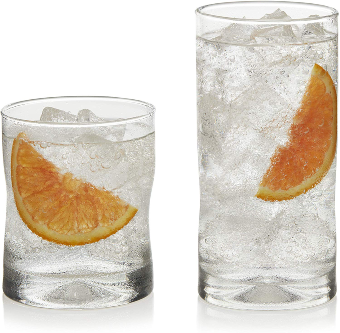 "Impressions are everything, and we mean that literally! What sets the Impressions Glass Drinkware Set apart is its unique four-sided dimpled shape, which provides an easy grip for guests on special occasions and loved ones for everyday use. Plus the recessed sides look cool, and there are 16 versatile pieces!
Unique four-sided dimpled shape fits snugly in hand, perfect for working the room with your drink—great for kids and seasoned folks too
Durable and dishwasher safe for quick, easy cleanup
Lead-free" -Amazon
Metal Straws
YIHONG Set of 8 Reusable Stainless Steel Metal Straws- Ultra Long 10.5 Inch- Regular Size 6 mm Wide – 30oz Tumblers Compatible – 4 Straight+ 4 Bent+ 2 Brushes+ 1 Pouch
"Made of food grade 18/8 stainless steel, these straws is reusable,clean and environmental friendly,a perfect replacement for your plastic straws.trendy for family reunion,girl's night out,cocktail party,perfect for on-the-go, kitchen, BBQ, picnics, party favors, boating as well all around the house, or out on the patio!
Dishwasher safe, scratch-free and stain-free;comes with 2 flexible cleaning brushes, making cleaning as easy as it can get." -Amazon
Silicone Ice Tray
Ice Cube Trays 3 Packs Flexible Silicone Ice Trays with Spill-Resistant Lids Easy Release Ice Trays Make 63 Ice Cube, BPA Free,Stackable,Dishwasher Safe
"Quick Ice Removal:The silicone material used on the bottom allows you to effortlessly remove the ice cubes. Simply push the bottom of the tray and your ice will slide out quickly without any of the bending and twisting required with traditional trays. The cube compartments are flat and individually separated so you can even push cubes out one by one. You can remove as little or as much as you need without wasting additional ice
Each Ice Trays With Removable Lid:The lid not only prevents spills, but keeps the contents inside from absorbing freezer odor or taste. The ice trays also stack easily without sticking to each other,helping to keep your freezer neat and organized.And 100% dishwasher safe for fast and easy cleanup" -Amazon
Dish Drainers
Neat-O Deluxe Chrome-Plated Steel Small Dish Drainers (Black)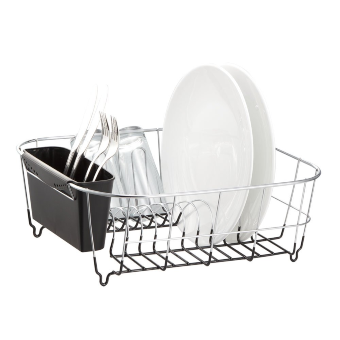 " The deluxe chrome-plated steel small dish rack has been streamlined to fit perfectly on the kitchen counter or in the sink. The dish rack can also be used in the sink to completely free up counter space." -Amazon
Over Sink Dish Drying Rack, iBesi 2-Tier Stainless Steel Stable Dish Drainer Shelf Rust Free Multifunctional Storage Organizer With Utensils Holder for Kitchen Sink Countertop (Sink size≤32.5in)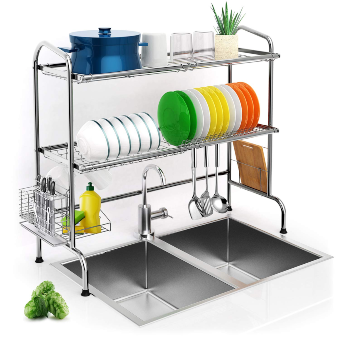 "
【PERFECT SPACE SAVE】Two layers dish rack with utensil holder and S hooks, keeps all tidy, save space and dry clean quickly. Say goodbye to mess, be a happy housewife.
【HIGH QUALITY & BEARING STRONG】Thicken stainless steel, free to clean, refused to rust, long lasting durability. Hard enough with a force of up to 40LB, not easily deformed.
【UNIQUE STABLE DESIGN】The Lengthen bend foot makes the rack's centre of gravity forward to balance the top weight, and the anti-skidding rubber feet keeps it more steady." -Amazon
Dish Drying Mat
S&T Microfiber Dish Drying Mat, 16″ x 18″, White Trellis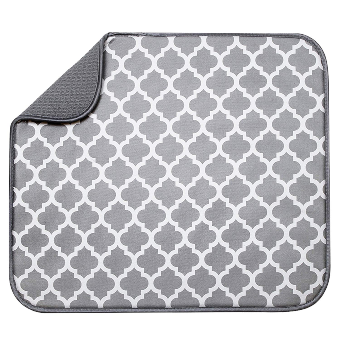 "The Dish Drying Mat is the revolutionary solution to the age old tradition of placing dish towels on the counter when hand washing pots, pans, dishes, and glassware. It has multiple uses; try it underneath your dish drying rack in place of the plastic drain board. Place it underneath your appliances (mixer, blender, etc.) to protect your counter top from scratches and scuffs. Fold it up for easy storage! " -Amazon
Silicone Dish Mat
Set of 5 Silicone Trivet Mat Expandable Hot Pot Holder with Stainless Steel Frame for Home Kitchen Heat Resistant Insulated Hot Pads Coasters Table Dish Mat Tableware Placemat for Hot Pans Bowls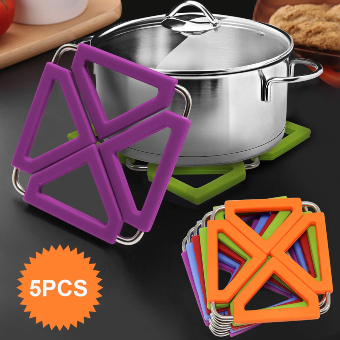 " Relianer foldable kitchen trivet provides a sturdy base for heavy pans to better insulate the kitchen surfaces from heat,protects your table or kitchen counter tops from unsightly burns!" -Amazon
Vegetable Chopper
Mueller Austria Onion Chopper Pro Vegetable Chopper – Strongest – 30% Heavier Duty Multi Vegetable-Fruit-Chopper-Kitchen Cutter
"SIMPLY THE BEST CHOPPER ON THE MARKET – With our easy to use chopper you get only what you need, quality and long lasting durability in an easy to use design!
REDUCES ONION VAPORS to minimize tears in a storage container. Holds up to 4 cups or 1.2 liters
UNMATCHED QUALITY – Made from BPA-free professional grade, heavy duty reinforced food grade ABS for superior break resistance. 2 ultra-sharp German 420-grade hardened stainless steel discs for chopping/dicing the hardest vegetables/cheeses with 1 easy motion EVERY time
FDA Certified, BPA Free, All parts are dishwasher safe" -Amazon
Bread Box
Home-it Stainless Steel Bread Box for kitchen, bread bin, bread storage Bread holder 16.5x10x8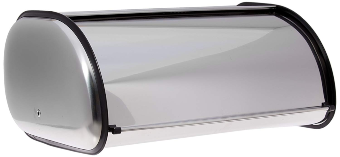 "Home-it Stainless Steel Bread Box with its stylish stainless steel design keeps all your baked goods fresh and tasty. Large capacity bin lets you keep any of your baked goods from delicious french rolls to home made cookies. breadbox Brushed stainless steel design complements the rest of your stainless steel kitchen wares. " -Amazon
Paper Towels
"Pack contains 8 Rolls of Bounty Select-A-Size Paper Towels
Bounty, the Quicker Picker Upper vs. leading ordinary brand" -Amazon
Aluminum Foil
Reynolds Wrap Aluminum Foil (200 Square Foot Roll)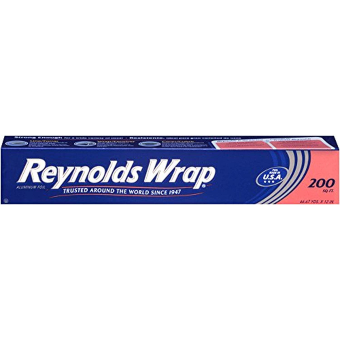 "This package contains one roll of Reynolds Wrap Standard Aluminum Foil, measuring 200 feet long by 12 inches wide (200 square feet)
Aluminum foil wrap offers a durable way to protect pans, simplify cleanup and wrap leftovers
Use as a tent over roasted meats, pan liners for baking, or a foil packet to infuse holiday dishes with flavor
Standard cutting edge built into the box lets you get even cuts for perfectly sized aluminum foil sheets without rips
The #1 brand of aluminum foil made in the USA, Reynolds Wrap has the trusted strength and quality you can count on for cooking delicious meals with easy cleanup" -Amazon
Plastic Wrap
Reynolds Kitchens Quick Cut Plastic Wrap – 250 Sq Ft roll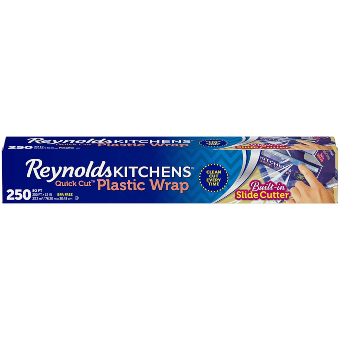 "This package contains one roll of Reynolds Kitchens Quick Cut Plastic Wrap, measuring 250 feet long by 12 inches wide (250 square feet)
Stretch tight plastic wrap provides a tight seal to protect food and extend freshness
The food wrap with slide cutter provides a clean cut for consistent tearing that helps to minimize tangling and waste
Built-in Starter Edge tab eliminates the frustration of finding the start of the plastic wrap
Automatic end tabs keep the plastic wrap roll secured, and the Grip Strip holds the food wrap in place until your next use" -Amazon
Ziploc Freezer Bags
Ziploc Slider Freezer Bags, Stand-and-Fill with Expandable Bottom, Quart, 34 Count, Pack of 4 (136 Total Bags)
"Ziploc slider freezer bags have a flat base and expandable bottom to make it easy to fill, even with liquids
Perfect for storing bulky items and food. Filled bags stand side by side in most refrigerators, freezers, and pantries
Features our Smart Zip seal. Slider closure makes these bags easy to close, easy to open
Freezer bags help to prevent freezer burn while keeping food fresh and full of taste
Microwave safe plastic (use as directed). when defrosting and reheating food, open the storage bag zipper one inch to vent. Bpa free" -Amazon
Make your own Perfect Oven Fried Chicken:
Pitcher
Rubbermaid Pitcher, 2 Quart, Racer Red 1953764
"Three position lid lets you pour with ice, without ice or to close
Large handle makes pouring more comfortable
Clear pitcher lets you see contents
Dishwasher safe away from heating element
These items are BPA Free" -Amazon
Digital Kitchen Scale
Etekcity Food Digital Kitchen Scale Weight Grams and Oz for Baking and Cooking, Stainless Steel(Upgraded)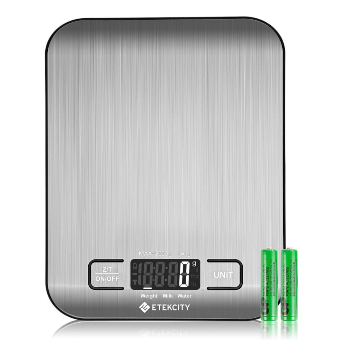 "This scale features a handy tare function to easily measure ingredients in a dish, allowing you to cut down on prep time. Designed with a smooth stainless steel platform for easy cleaning and maintenance, this scale's slim design makes it easy to store while maintaining the durability to withstand up to 11 pounds of weight. Whether you're a beginner or a seasoned chef, this digital scale has the simplicity and practicality to create the perfect kitchen creations. " -Amazon
Hand Blender
Immersion Hand Blender, Utalent 5-in-1 8-Speed Stick Blender with 500ml Food Grinder, BPA-Free, 600ml Container,Milk Frother,Egg Whisk,Puree Infant Food, Smoothies, Sauces and Soups – White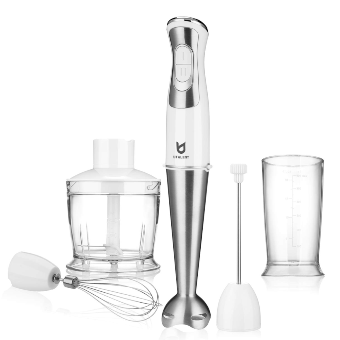 "EASY TO CLEAN & SAFE. Detachable attachments are easier to clean, chemical free with ETL, FDA Certificate, dishwasher safe and BPA free.
MILK FROTHER ATTACHMENT: Portable hand-held milk frother makes milk foam for your coffee.
MORE POWERFUL. 250 Watt powerful hand blender with 8 – speed + turbo for milk shakes, soups or baby food. Low noise and shake.
HIGH-EFFICIENCY BLENDER. Thick stainless steel mixing wand with 4 – blade system. Make food mixing more efficient, evenly and smoothly.
5-in-1 ATTACHMENT & WARRANTY:

mixing wand,
milk frother,
500ml Food Chopper,
600ml Beaker,
Egg Whisk with 2-year warranty." -Amazon
A Super Green Smoothie is the kick you need now: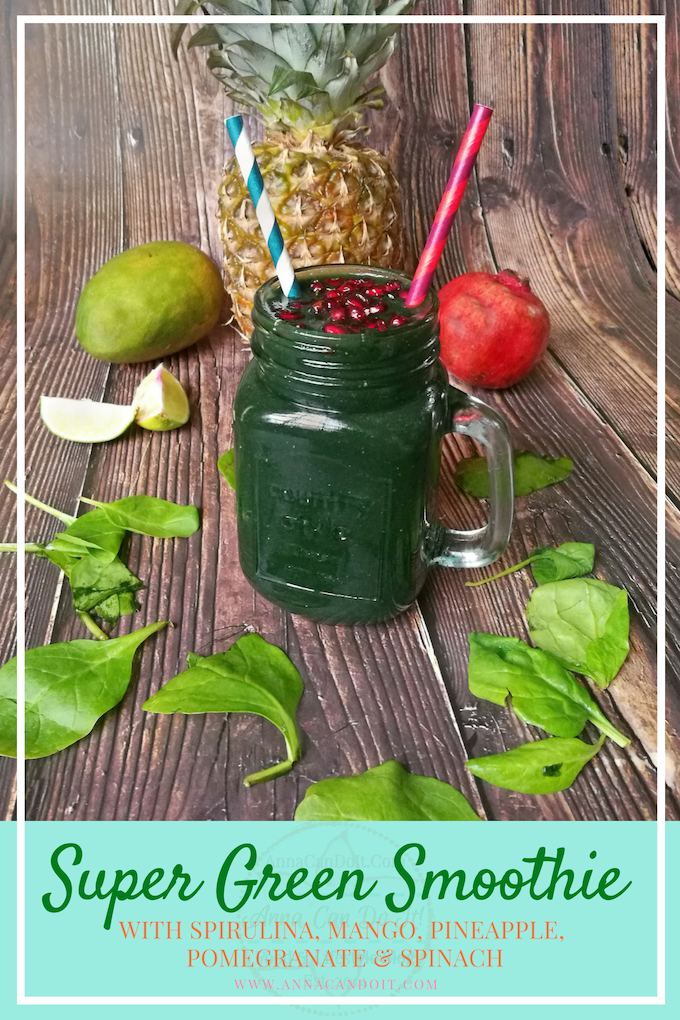 Electric Kettle
HadinEEon Electric Kettle 1.7L Glass Electric Tea Kettle (BPA Free) Cordless with LED Indicator Lights, Portable Electric Hot Water Kettle with Auto Shutoff Protection, Stainless Steel Lid & Bottom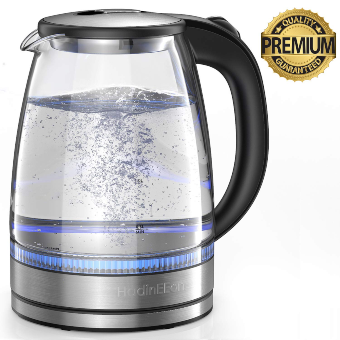 "【Food grade material】 The electric kettle is made with glass while the inner lid and base are made of food-grade 304 stainless steel. All the water contact surfaces are constructed of FDA approved & food grade material and heat-resistant.
【Heat up quickly and quietly】 it will be a big help in quickly boiling or heating water for cooking such as pasta or polenta. Especially in the morning, it heats so fast and enables you to make hot cereals very quickly as well as hot chocolate, etc. Which saves you from being late on most days. Only takes 6 minutes to boil 1. 5L water. No more long time waiting.
【Shuts off automatically with boil-dry Protection】The cordless glass electric kettle provides peace of mind through thoughtful details like an auto shut-off safety feature to provide thermal shock protection. 360-Degree swivel base lets you remove the Illuminating cordless kettle for easy pouring and then it can be replaced at any angle.
【High-quality, scratch-resistant borosilicate glass design】beautifully crafted from heat resistant glass with the blue light around the rim, it's both stylish and functional. It provides a visual delight while boiling water as it heats up. Featuring aesthetics as well as durability and ease of use, it's the perfect addition to your kitchen. Furthermore, it gives you a good view to see inside so that you can clean it thoroughly." -Amazon
Stand Mixer
Hamilton Beach Eclectrics All-Metal 12-Speed Electric Stand Mixer, Tilt-Head, 4.5 Quarts, Pouring Shield, Red (63232)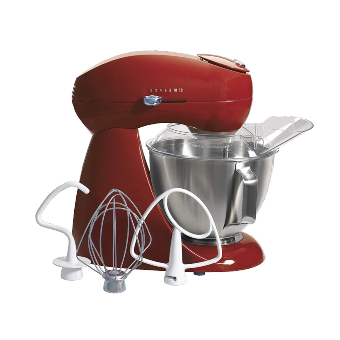 "Hamilton Beach Eclectrics 63232 Tilt-Head Stand Mixer with Pouring Shield, 4.5 Quart, Red
Hamilton Beach Eclectrics Stand Mixers let you masterfully mix, whip, knead and create your favorite from-scratch baked goods and homemade recipes. Planetary mixing action, 12 speeds and a powerful 400 watt motor can handle everything from sticky pizza dough to fluffy whipped cream." -Amazon
Electric Coffee Grinder
Hamilton Beach Fresh Grind 4.5oz Electric Coffee Grinder for Beans, Spices and More, Stainless Steel Blades, Black (80335R)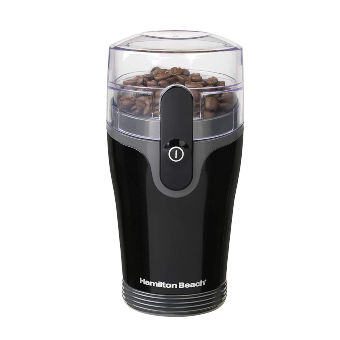 "Hands-free operation and precise measuring add up to the perfect coffee grind.
Hamilton Beach Custom Grind Coffee Grinders are ideal for precision coffee grinding, giving you the exact texture you want every time. Well-defined fineness settings guarantee perfect results and clear cup markings ensure meticulous measuring.
A Hamilton Beach Coffee Grinder is easy to use and clean. They offer hands-free operation with auto shutoff as well as hide-away cords for easy storage. Some coffee bean grinders even include a stainless steel grinding chamber that comes out for easy cleanup in the dishwasher." -Amazon
Coffee Machine
Nespresso by De'Longhi EN267BAE Original Espresso Machine Bundle with Aeroccino Milk Frother by De'Longhi, Black
"HIGH PERFORMANCE: The 19 bar pump system offers barista-style single-serve Coffee or Espresso every time, perfectly extracting the delicate flavor of each Nespresso Original Coffee capsule. The input power is 1710 watts
SPEED AND ENERGY SAVING: The fast heat-up system reaches the ideal temperature in just 25 seconds. The automatic energy saving function switches the machine off after 9 minutes of inactivity and can be extended from 9 to 30 minutes. Cable storage
VERSATILITY: Adjustable cup size with two programmable Espresso (1.35 oz.) and Lungo (5 oz.) buttons making CitiZ a great Coffee maker for all your single-serve Coffee needs. Pour over ice to create your favorite iced Coffee drinks. Removable Nespresso capsule container, drip tray and water tank (34 oz.) for quick and simple cleaning
DESIGN: CitiZ's look continues to please both Nespresso Coffee and Espresso drinkers and design lovers, adding a touch of elegance to Coffee rituals.
COMPLIMENTARY GIFT: Each machine includes a Nespresso Original capsule welcome kit with a range of capsules with unique aroma profiles
BUNDLE: The Aeroccino 3 milk frother is included to create the perfect finish to your single-serve Coffee beverages such as Cappuccino or Latte. Folding drip tray for a taller glass" -Amazon
Create a coffe/tea station like mine:
Citrus Juicer
Cuisinart CCJ-500 Pulp Control Citrus Juicer, Brushed Stainless, Black/Stainless, 1 Piece
"Adjustable reamer with 3 pulp control settings-low, medium, high
Auto-reversing universal juicer cone for more efficient juicing
Final-Spin feature extracts more juice from pulp
Extra-long Snap-Up spout accommodates more glasses and prevents dripping
Brushed stainless steel design, Easy-clean dishwasher-safe parts, BPA free" -Amazon
Toaster
AmazonBasics 2 Slice Extra Wide Slot Toaster – Black
"2-slice toaster for toasting one or two slices of bread at a time; 6 shade settings accommodate individual preferences
Extra-wide slots for bagels and thicker slices; each slot measures 5-1/4 inches long by 1-1/4 inches wide
Bagel setting for toasting just the cut side; Frozen setting for defrosting bread; Cancel function ends the session at any time
Extra-lift lever for safely removing smaller pieces; 22-inch power cord (when routed out the back); cord wrap; removable crumb tray (located in the back)" -Amazon
Waffle Maker
Oster Belgian Waffle Maker, Stainless Steel (CKSTWF2000)
"Belgian waffle maker creates large, round waffles with deep pockets that hold plenty of toppings and syrup
Waffle maker features an 8 inch nonstick plate that releases waffles easily and cleans quickly
Adjustable temperature control lets you customize heat while cooking, for different types of finishes and batters
Stainless steel housing offers added durability; cord length: 27.5 inches, watts: 1080w
Safe to touch handle provides a firm grip and helps prevent burns" -Amazon
Sandwich Toaster
Proctor Silex Sandwich Toaster, Omelet And Turnover Maker, White (25408Y)
"MAKE HOT SANDWICHES AND MORE: Turn a lunchtime staple into something special by making it warm and toasty; or quickly cook other meals like omelets, French toast and desserts
COMPACT DESIGN AND STORAGE: Built for small spaces, the Proctor Silex sandwich maker is compact in size and can be stored upright taking up minimal cabinet space
EASY CLEAN NONSTICK PLATES: Cleanup couldn't be easier thanks to the nonstick plates. Simply wipe them clean with a damp cloth once they've cooled
INDICATOR LIGHTS: Power on and preheat lights let you know when it's time to cook
TOASTY RESULTS, SANDWICH AFTER SANDWICH: A warm, toasty sandwich is always a good idea for a quick, satisfying meal" -Amazon
Microwave Oven
Toshiba EM131A5C-BS Microwave Oven with Smart Sensor, Easy Clean Interior, ECO Mode and Sound On/Off, 1.2 Cu.ft, 1100W, Black Stainless Steel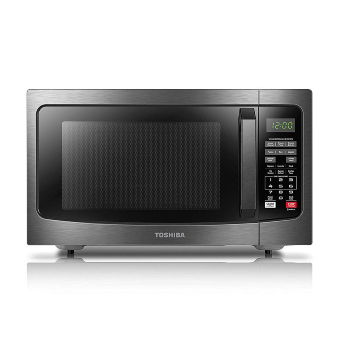 "Pre-programmed sensor menu for optimum heating of popular foods like pizza, potatoes, veggies and more ; Rated Voltage : 120V~ 60Hz
Black Stainless Steel exterior, 20. 5 x 17. 1 x 12. 8 inch(w*d*h), large 1. 2 cubic feet capacity, cavity 13. 07*15*9. 5 inch(w*d*h), turn table 12. 4 inch(diameter)
1100 watts with 10 power settings, clock, and kitchen timer
Large digital display, easy-to-read control panel, glass turntable
One touch start popcorn and two defrost settings – custom or one-pound auto defrost. Turntable diameter: 12. 4 inches
Large digital display, easy-to-read control panel, power saving mode, sound on/off option, glass turntable. Rated input power(microwave): 1550 watt
If you wish to mute the buzzer of the microwave, pleas long press on the button "8" For 3-5 seconds. The buzzer is automatically switched off after a long beep." -Amazon
---
Pin it for later!
MAKE SURE TO VISIT MY HOME PAGES FOR MORE POSTS!
Also, check these recipes out!